Christmas with the Choral Society
Saturday, December 13, 2014
St. Ambrose Cathedral, Des Moines
The Music of Life, with The Java Jews
Saturday, February 21, 2015
St. John's Lutheran Church, Des Moines
A Society Celebration (fundraising event)
Saturday, March 7, 2015
Marriott Downtown, Des Moines
Mack Wilberg Conducts the Choral Society
Saturday, May 2, 2015
First Christian Church, Des Moines
Christmas with the Choral Society
This sold-out concert was held on Saturday, December 13, 2014, St. Ambrose Cathedral, Des Moines, and featured a performance of Bach's Magnificat and compositions by several of DMCS's own singers. Photos and program excepts below.
From the Conductor…
Perhaps the most beloved setting of Mary's Song, the Magnificat, is by J.S. Bach. It serves as the centerpiece for our concert. Each weekly rehearsal of the work has been energetic, intellectually stimulating, and fulfilling to sing. I am pleased we are able to share with you this marvelous work. Through its solo movements you will also get to know some of the wonderful individual voices that make up the Des Moines Choral Society.
In the makeup of the choir as well, are talented young composers. We'll feature new compositions by Elaine Hagenberg and Connor Koppin, both members of our choir and choral music educators.
This holiday season the music world is remembering the prolific Minnesota composer Stephen Paulus. The Society has sung a number of his works over the years, and tonight we honor him by singing one of his earliest compositions, the hauntingly elegant "A Savior from on High."
We are also pleased to sing compositions by masters of the past: Grieg (Norway), Gretchaninoff (Russia), and Howells and Vaughan Williams (England). And finally, this year's highest bidder at the 2014 Choral Society Celebration for the opportunity to conduct at this concert, will lead the choir in Handel's Hallelujah Chorus.
Thank you for being here and supporting the wonderfully talented people who make up the Des Moines Choral Society.
...[top]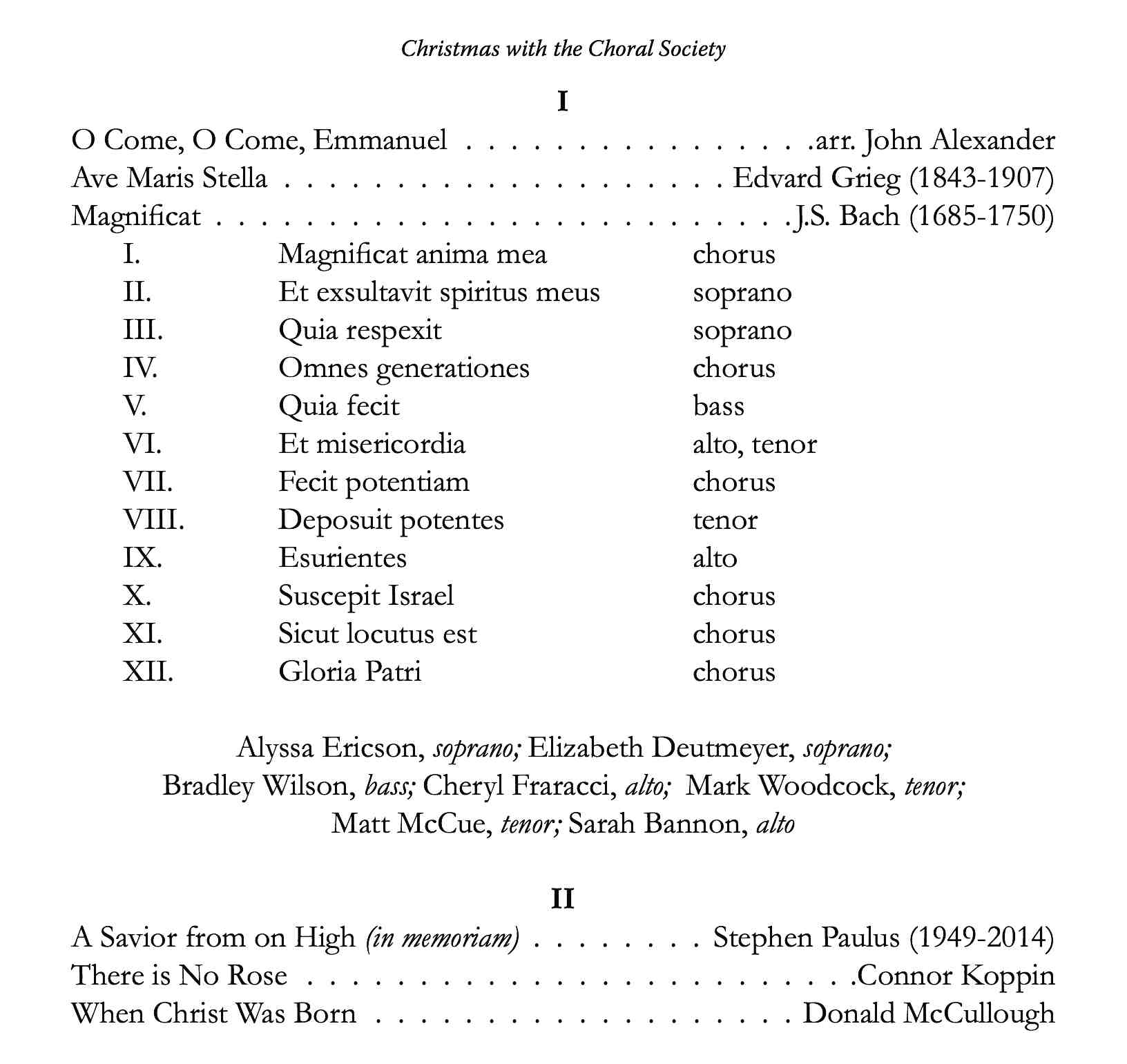 L'Chaim! The Music of Life featuring the Java Jews
Dr. James Rodde, Conductor
Elaine Wedeking, Accompanist
Saturday, February 21, 2015
St. John's Lutheran Church, Des Moines
7:30 PM
Society Celebration (Fundraiser)
Saturday, March 7, 2015
Marriott Downtown, Des Moines
Mack Wilberg Conducts the Choral Society